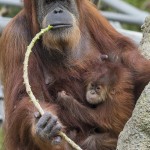 Today is World Orangutan Day! On this day, organizations around the globe are highlighting the plight of one of our closest living relatives, the tree-dwelling "person of the forest." These special creatures are not important just because they are large mammals, or because they remind us of ourselves, but also because they are so integrally connected to the forests they inhabit. With more than 500 known plant species encompassed by their diet, this red ape is a significant factor in seed dispersal in the ancient forests of Indonesia and Borneo.
But the forests, and the orangutans that depend on them, are dwindling. Habitat loss is occurring in Southeast Asia at an alarmingly rapid rate, with Indonesia and Malaysia losing more than 6.5 million hectares (more than 25,000 square miles) in the last few decades. As a result of this habitat loss, the two orangutan subspecies are experiencing a steep decline. The Sumatran Orangutan is critically endangered; the IUCN estimates that no more than 7,300 remain in fragmented patches of forest, primarily in Aceh, Indonesia.
Forest loss in orangutan habitat has a number of causal factors: mining operations and tree harvesting for the pulp and paper industry are two of the usual suspects. But one of the most significant reasons for deforestation over the last twenty years was the rampant growth of the palm oil industry. Production of oil palm, an agricultural commodity that grows only in tropical regions, has skyrocketed: between 1990-2010, Indonesia experienced a 600% increase in land dedicated to the crop. To protect and preserve orangutans, and other species dependent on these forests, conservation biologists have been searching for a way to stem the tide of deforestation due to palm oil expansion.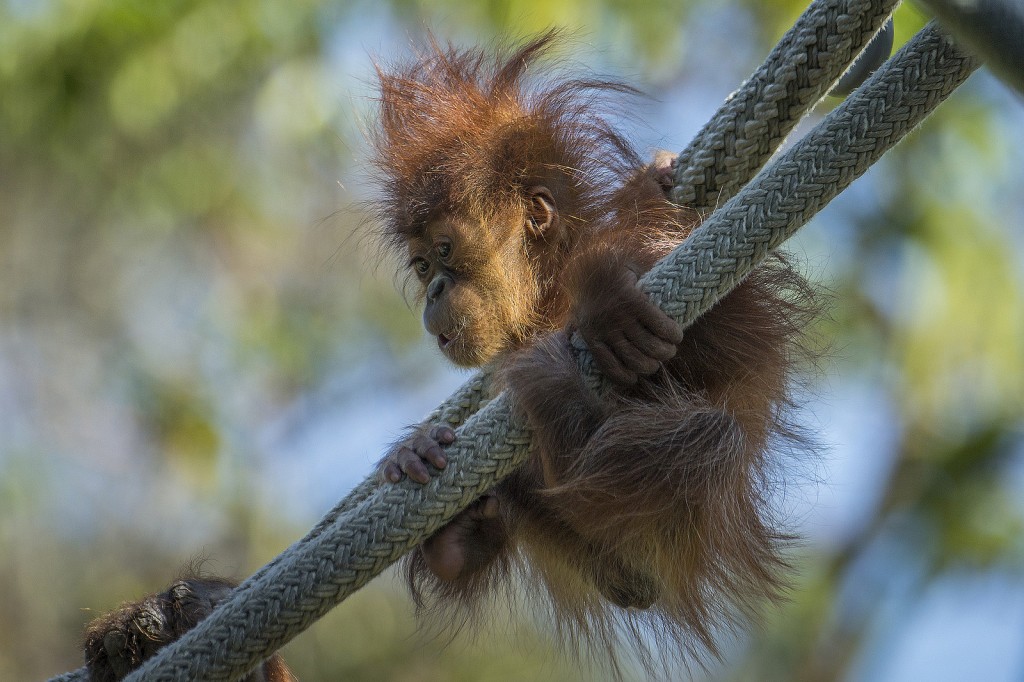 San Diego Zoo Global has joined the Roundtable on Sustainable Palm Oil (RSPO), and has been working with other North American zoos and RSPO stakeholders to strengthen and improve its efforts to move the palm oil industry toward sustainability. Along with other members of the Association of Zoos and Aquariums (AZA), the accrediting body for North American zoological institutions, we are exploring ways to ensure the preservation of biodiversity in areas impacted by oil palm.
Today, on World Orangutan Day, the AZA has announced its support for the development of a sustainable palm oil marketplace. AZA member zoos, including San Diego Zoo Global, collectively educate and entertain 180 million guests each year. That is a significant audience that can help push for change that will "break the link between palm oil and deforestation," a move necessary to preserve orangutans and other wildlife into the future. As RSPO members, SDZG stands alongside the AZA in recommending that North American consumers help to increase the uptake of Certified Sustainable Palm Oil (CSPO) in our supermarkets. Currently, there is more CSPO produced each year than is purchased for consumer goods. Since CSPO is produced in accordance with sustainable principals and criteria as set forth by the RSPO, orangutans would benefit if demand for CSPO were to rise. You can learn more about CSPO, and the product lines containing it, here.
We have a long way to go to ensure that the beautiful, long-haired "person of the forest" remains in wild places in the future. On World Orangutan Day, we ask you to consider how you might actively participate in efforts to preserve our red-haired cousins by beginning your own journey to sustainability. A good first step? Find ways to modify your habits to include more CSPO in your purchases. Together, we can help secure the forest home for the orangutan, and all its jungle brethren.
Suzanne Hall is a senior research technician for the San Diego Zoo Institute for Conservation Research.