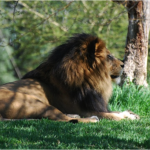 Thanks to our dedicated animal care staff, we have now completed all the initial preference trials (see Big Cat Preferences and Big Cat Preferences, Part 2) with lions, tigers, and cheetahs. Our findings reveal that there are both species and individual differences in enrichment preference, which will help us make educated decisions when providing enrichment for our felids. Ensuring the highest quality of care for every animal in the collection is our top priority, and this is just one project leading toward that goal.
The next phase of this project is being completed by Erin Lane, our Neeper Endowed Fellow, with the assistance of some of our wonderful volunteers. The project includes examining the effects of enrichment (scents and objects) on the 24-hour behavior of lions. We have installed cameras throughout the lion exhibit to observe what the effects of the enrichment are both during the day and at night. This will also provide some insight into the activity budgets of the animals. For example, throughout the day a person might spend about 8 hours sleeping (33%), 1 hour commuting to and from work (4.2%), 9 hours working (37.5%), 2 hours cooking/eating (8.3%), 3 hours watching TV (12.5%), and 1 hour exercising (4.2%). We want to know what percentage of time the lions eat, sleep, rest, socialize, and play. This information will help us make sure that our enrichment program is keeping the animals active and healthy.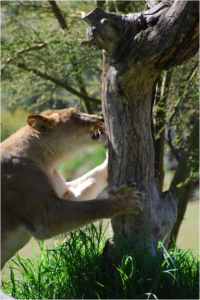 We will also be recording different behaviors such as scent marking, sniffing, and clawing to make sure we are providing opportunities for these behaviors that are part of their natural behavior. Keep in mind that lions in the wild typically sleep between 16 and 20 hours a day (66.6% to 83.3%), and we hope our lions spend their time in a similar fashion. If you have been to Lion Camp at the San Diego Zoo Safari Park before, you probably already know that they spend a good portion of their time sleeping just the way a lion should. The question is: how much?
Lance Miller is a scientist for the San Diego Zoo Institute for Conservation Research.