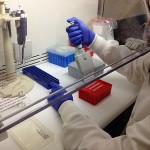 One of the many perks of working for San Diego Zoo Global is the opportunity for professional development. I recently got back from one such occasion and thought a change of pace might be nice, especially for you virology types!
I spent the past month in Escondido, California, at our Beckman Center in the Wildlife Disease Labs (WDL) under the instruction of my co-manager, Josephine Braun, D.V.M., a pathologist, veterinarian, and protector of the universe. She periodically sends for me to assist in collecting molecular diagnostic data to check for the occurrence of diseases in certain desert tortoise populations, such as those at our Desert Tortoise Conservation Center (DTCC) in Las Vegas or those in the wild. This past visit, I was testing many different types of tissues for the presence of bacteria such as Mycoplasma agassizii, M. testudineum, and viruses such as tortoise herpesvirus-2. It's always very interesting for me to go to the WDL, because I get to see the process of determining a tortoise's health status on the molecular level from start to finish.
It all starts with the collection of a broad range of tissues including each major organ system, tissues with gross lesions, and nasal flushes during necropsy using sterile technique. These tissues are then snap-frozen in liquid nitrogen and placed into a -80 degrees Fahrenheit (-62 degrees Celsius) freezer where they eagerly wait for someone to extract their DNA and discover the secrets they hold about the health status of a particular tortoise. Next, it is decided what pathogens to test for based on pre-mortem clinical signs and/or gross and histologic findings during necropsy and based on previous or current health issues within the population.
To do this, DNA is extracted with the help of a kit that contains all the buffers and tubes necessary to free DNA from its bounds within the cell. Once the DNA is extracted and cleaned, the quality and quantity of DNA is evaluated, and the freshly made DNA can be used for testing. This testing is usually a Real-time Polymerase Chain Reaction (qPCR) assay or test. The assays are specific for the pathogens in question and will detect minute amounts of pathogen DNA within the extracted pool. With this test, we are able to screen for pathogens that are suspected of infecting and making sick the desert tortoises exhibiting signs of illness on site.
If it weren't for the capabilities the San Diego Zoo provides, these tortoises would not get the top-notch, round-the-clock care they receive based on the quick turnaround of test results. These quick results can then be utilized to lessen the effects of what could be a large-scale outbreak occurring in a particular population, in this case the tortoises at the DTCC. It is very important that we stay on top of the health status of potentially releasable tortoises, because the last thing we want to do during a translocation is cause the exposure of a previously unknown disease to wild tortoises whose very population we are trying to augment.
Larisa Gokool is a research associate at the San Diego Zoo Desert Tortoise Conservation Center. Read her previous post, Desert Tortoise CSI.