As the year comes to a close, I wanted to update everyone on our scent studies. At the beginning of the year we accepted donations of cologne and perfume to test preferences for our large felids (see Cologne, Perfume Needed for Cats!). Thanks to all your donations, we had over 200 different types of perfumes and colognes to choose from for the scent trials. We ran the trials this summer with the lions and tigers at the San Diego Zoo Safari Park and tigers at the San Diego Zoo. The trials were a huge success, and we saw differences between perfumes and also different reactions between the tigers and the lions. What was really exciting is that the tigers at the Zoo showed very similar preferences overall to the tigers at the Safari Park. Similar to previous enrichment studies (see Big Cat Preferences, Part 2), it is quite clear that both species have types of scents that they prefer.
We are currently in the process of trying to raise the rest of the money to conduct a chemical analysis on the preferred perfumes. The analysis will help determine the chemical components of preferred perfumes so that we can make a "tiger" scent or "lion" scent with only the components that overlap from the top perfumes. Next year, we hope to then take the created scents to study the effects as enrichment with the lions and tigers. We also hope to do the same with cheetahs and other felid species in our collection.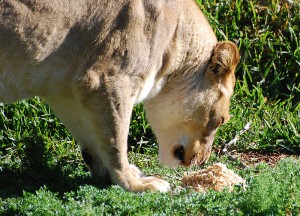 Providing environmental enrichment for animals helps keep them both physically and psychologically healthy by promoting species-appropriate behavior and providing the animals some control within their environment. Only through good science can we continue to learn about the animals and their enrichment preferences to provide the highest quality of care for animals within the collection.
I wish everyone a wonderful holiday season, and a happy new year!
Lance Miller is a scientist for the San Diego Zoo Institute for Conservation Research.