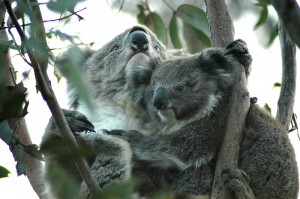 A wild Victorian koala mother and joey
The San Diego Zoo has long held Queensland koalas in our collection; in fact, we have the largest breeding colony of them outside of Australia. But did you know that there is another koala found in Australia? I thought I might let you know about Victorian koalas, the Queensland koala's southern "cousin."
When I was in Australia in October, I visited Dr. Bill Ellis on St. Bees, where there are Queensland koalas (see Koala Fieldwork: Helping Hands), and I also traveled over 1,000 miles south to Cape Otway, Victoria. I stayed at the Great Ocean Ecolodge, which is surrounded by national parks. And to see the koalas, all I had to do was walk out the door! Dr. Kellie Leigh and Lizzie Corke and her family were my wonderful hosts. Lizzie and her husband built the lodge by hand, and Kellie is their resident researcher. I have traveled through much of Australia, but I had not spent any time in this most southern area of the country. I went from a warm tropical climate on St. Bees to a bit cooler and rainier one, but that is part of the reason one finds that the koalas are much larger and furrier here. Victorian koalas look different than the koalas you see at the San Diego Zoo, but we are not sure if that is the only difference.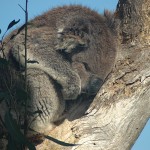 Unlike their Queensland counterparts, Victorians are not currently viewed as a declining population; rather, there is some debate if they are eating themselves out of their favorite food, manna gum. That was part of the reason that I stopped in this part of the country. Dr. Leigh is in the process of setting up some koala research projects that will examine not only the behaviors of these koalas but their overall health and ecology.
Similar to the Queensland koalas, male Victorians have large sternal scent glands. And yes, I was able to collect some samples from males at the Ecolodge in order to have my organic chemist run them and compare them to the Queensland samples. As part of this sampling, I will be working with Kellie to see if we can come up with some possible bio-fencing methods using scent samples.
The cool part of this study is that we will end up creating our own artificial koala scent, similar to how companies create perfumes and colognes. If you have ever smelled koala scent, you will know that we won't be stocking it for sale in our gift shops! And if you haven't ever smelled a koala, just ask one of the volunteers at the Zoo's koala cart to let you have a smell.
The next time you see our koalas, you can know that they are doing their part to help their wild Queensland counterparts and even their southern Victorian "cousins."
Jennifer Tobey is a research coordinator at the San Diego Zoo Institute for Conservation Research. Read her previous post, Koala Valentines.